Hurricane Insurance Claims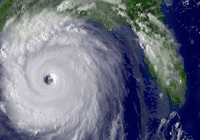 The last couple of years have seen an increase in not only the amount of, but also the severity of hurricanes. We have seen many situations in which following the storm, businesses have realized that they weren't covered properly due to inadequate coverage from their insurer and the complexity of losses involved following hurricane damage. As a business owner, you will need to have a good understanding of your level of exposure and develop strategies that can help minimize your risks. Doing so can have important financial benefits when the next big hurricane appears in your area, as you can successfully make and settle a hurricane insurance claim.
It is very hard to predict with any degree of accuracy when the next hurricane will hit, which areas it will pass through and what intensity it will have. This is why business owners that operate along the coasts should always be ready for possible storm damage and the idea of having to file a hurricane claim. Of course, there will be many things that need to be done after a hurricane passes through, but the most important ones are keeping your property safe, getting your business up and running again and recovering from the damage in general. It is imperative that you have a good understanding of your insurance policy long before a hurricane comes, as this is essential in protecting your insurable property and making sure that your claim is processed as rapidly as possible. Those who have put together contingency plans and have the right insurance will be better equipped to handle the subsequent hurricane insurance claim process.
After a major hurricane, getting help from an expert public adjuster Florida can be necessary to navigate the claims process and maximize the amount that you are able to recover. We have public insurance adjusters that have a large amount of experience dealing with hurricane claims. Beginning with Hurricane Elena in 1985, we have helped business owners file insurance claims thousands of times and have worked during every single hurricane that has hit the United States and the Caribbean in the last 28 years. When you work together with us, you will have a dedicated team of experts ready to help you in every step of your hurricane claim.