Burglary and Theft Insurance Claims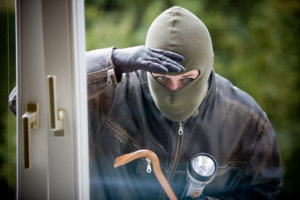 After a long day of work, the last thing you need is a situation where you're facing the aftermath of a home or business invasion. While taking note of the damage and stolen goods, you might wonder if the insurance company that holds your policy provides coverage for property theft. You might also wonder that, if you are, in fact, covered, what are the chances that they'll accept your claim and compensate you for your losses?
During your assessment of the losses and any property damages, it is essential that you preserve evidence of the crime scene by not touching anything or altering any details. You'll need to call the police immediately, file a police report. Be as thorough as possible when detailing what items have are no longer present and what damage has occurred. Before submitting your claim, make sure to get Property Damage Consultants involved, as missing any minor details in your claim might be the difference between securing a sizable payout or obtaining unfavorable compensation results. Property Damage Consultants has years of experience helping policyholders just like you to get your life back up and running. We've seen and dealt with all types of property theft. From simple break-ins where only a window broke to situations where entire stores have suffered theft of their goods, we know what angle to take, depending on the insurance company you have, the policy you hold, and your situation.
Here are some key points to consider:
Decades of experience filing, completing, and verifying claims.
Superior professionalism with presenting and procuring the required documentation.
Powerful negotiation techniques when it comes to dealing with staff at your insurance company.
The confidence to promise to deliver the absolute maximum settlement for your property theft claim.
Helpful and friendly customer support and guidance throughout the claims process.
A fair agreement – if no payouts are collected, we agree not to incur any charges.
Insurance companies have entire teams and departments setup to avoid payouts of claims to policyholders. They have attorneys, adjusters, and support staff whose sole mission is to make sure the company does not have to disburse the appropriate amount of funds to its policyholders. Our purpose at Property Damage Consultants is to ensure that your insurance company lives up to the terms and stipulations as outlined in the policy. Large portions of insurance companies' profits come from individual policyholders that make mistakes and don't hire a public adjuster to make sure they obtain the highest payouts possible.
As the economy worsens, the rate of property theft will only increase. According to statista.com, there has been a total of seven million property theft reports filed in 2018 alone. It's essential to have skilled public adjusters behind you in the event of theft. Hire the best firm on the eastern seaboard for your claim, Property Damage Consultants.
We're here to answer your call 24/7, rain or shine, night or day.
Why hire us? Because we offer:
Over 30 years of experience in helping clients win their insurance claims
Expert support with preparing and presenting the necessary documentation for your claim
Vast knowledge in assessing the losses suffered and the value of your property
Professionalism, trustworthiness and commitment to fighting for your best interests
The skill and knowledge about filing a new claim or reopening an old one and collecting the money you deserve from your insurance company
Expert help during the negotiations with the insurance company
The promise that you will enjoy maximum settlement for your theft and vandalism claim
A fair guarantee – if we don't collect for you, you do not have to pay us!
Your insurance company employs an adjuster to work on its behalf.  These adjusters are paid and trained by your insurance company, do they have your best interest in mind?  Insurance companies do not make any money paying claims, the claims division is most likely their largest expense and therefore the easiest place for them to increase their bottom line.
Our job at Property Damage Consultants South Florida is to help people like you.  Our passion and expertise are to put an accurate dollar value on your loss and relentlessly fight to recover it from your insurance company.  We don't work for the insurance company, we work directly for you with ONLY your interests in mind…let us fight for you!
We are State licensed Public Insurance Adjusters.  Craig Drillich the owner of Property Damage Consultants South Florida After working on behalf of the insurance companies for twelve years and tired of seeing the injustice being done to the property owners, Craig Drillich,  President of FAPIA the Board of Directors of the Florida Association of Public Insurance Adjusters, became a consumer advocate as an all lines licensed Public Adjuster and Appraiser., being trained by the Big Insurance Companies he knows how they work, think and act.  That's right, he used to be an adjuster for the other side.  His experience working on both sides has helped many property owners achieve the claim settlement that they deserved.
Property Damage Consultants are ready to answer your call and come to assess the loss you have suffered. We will be there for you and help you file a Lightning Damage Claim in order to get the damage to your property repaired.