Fire Damage Claims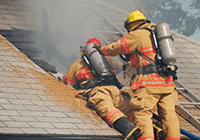 The recovery process after a fire hits your home or business is certainly a difficult one. Even a small fire that is rapidly brought under control can create an insurance claim that is quite lengthy and complicated, once you take into consideration the damages caused not only by the fire itself, but also by smoke and water. In some cases, the damages caused by the smoke and the water used to bring the fire under control will be considerable. For policyholders who don't have experience dealing with fire damage claims, this could mean a very unpleasant experience. But filing a fire damage claim doesn't have to be a long and complicated process for you. Public adjusters can be very helpful if your property has been damaged as a result of a fire, no matter the extent of the damage caused to your home or business.
When you use the services of public adjusters from Property Damage Consultants, you will be dealing with people who have numerous years of experience helping property owners settle their insurance claims. Our public adjusters are well versed in the fire insurance claims process and can provide you with valuable advice and information at each step. They can help make sure that every step of your claim is done properly, so the entire process can be less of a frustrating experience for you. For example, they can help you prepare the needed documentation and evidence that you would need to submit to your insurance company with your fire damage claim.
Public adjusters from Property Damage Consultants only work for policyholders and not insurers, which ensures that any action we take will be in your best interest. Public adjusters will do everything possible to make sure that your fire damage claim is treated in a fair and efficient way by your insurance company. If your property has suffered damage as a result of a fire, get in touch with Property Damage Consultants today and let our public adjusters handle your claim. Our team can help you receive the best possible financial recovery that your property insurance policy will allow.