Public Adjuster For Lightning Insurance Claims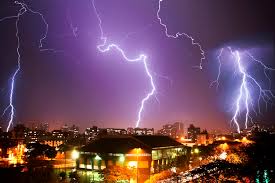 Who would have thought lightning had the capability to strike their home or business and cause substantial damage? Commonly, lightning strikes electrical cabling, burning them out and creating a surge of power which destroys everything that is connected to it. This sometimes results in a devastating fire.
Although it is rare to get struck, it is still good to be on the safe side and cover all your assets. Although a building may contain lightning rods or a nearby higher metallic point, disaster can still occur. Lightning does not always reach the highest level. Lightning can quickly strike lower-lying objects or create an arc and strike multiple points or objects simultaneously.
Likewise, lighting hits overhanging electrical lines that allow a wave of energy to enter your home and destroy your electrical network, including all outlet connections. After the strike, you'll be left without working appliances or air conditioning. Electronic systems, televisions, and computers, which are very expensive to replace, will be destroyed. If you have sustained lightning damage to your home or business, let Property Damage Consultants assist you with your insurance claim.
Wherever you are, natural disasters will hit. The only variable between different locations is the probability of attack. Lighting strikes may or may not happen, however, it is a good idea to have insurance covering of your home or business. Your property is something you've invested large sums of time, effort and money in. Once you've invested in security, you'll will be free to enjoy your daily activities without thinking about what might go wrong.
To cause thousands of dollars in damage, it only takes one lightning strike. Lightning strikes can cause substantial damage to homes, commercial buildings, churches, and other private property. Electrical infrastructures are destroyed when lightning strikes buildings directly; however, lightning does not have to to hit the building to cause damage. Damage from nearby strikes can cause electrical loss, fires, and personal injury from trees or other objects dropping as a result. Insurance companies pay valid claims for damage caused by lighting in many cases on time and in accordance to the terms of the insurance contract but only if you have a skilled claims adjuster on your side.
Understanding Lightning Damage Insurance Claims
For lightning strikes that do not result in a consequential loss due to fire, most of the damage is caused by the strike's electrical surge. While not always understood instantly, lightning can cause catastrophic damage to your home or business's appliances, electronics, computers, telecommunications systems, electrical fixtures, and electrical infrastructure. The resulting damage, once identified and measured, may be significantly greater than what one initially believes, possibly resulting in temporary loss of use to the homeowner or significant loss of business income.
The next step would be to determine and evaluate the extent of the damage caused by any electrical surge that took place on the property's electrical system, its appliances and electronics.
Are contents such as appliances, computers, electronics, and stereo equipment damaged?
Are construction goods affected, such as integrated telephone systems or electrical infrastructure?
If so, to what extent have these items been damaged by the lightning power surge?
In these cases, we are here to help you assess your damages, file a claim for what is needed to repair your properties and obtain your insurance payout check. Don't panic; let Property Damage Consultants handle it all.
Why hire us? Because we offer:
Over 30 years of experience in helping clients win their insurance claims
Expert support with preparing and presenting the necessary documentation for your claim
Vast knowledge in assessing the losses suffered and the value of your property
Professionalism, trustworthiness and commitment to fighting for your best interests
The skill and knowledge about filing a new claim or reopening an old one and collecting the money you deserve from your insurance company
Expert help during the negotiations with the insurance company
The promise that you will enjoy maximum settlement for your theft and vandalism claim
A fair guarantee – if we don't collect for you, you do not have to pay us!
Your insurance company employs an adjuster to work on its behalf. These adjusters are paid and trained by your insurance company, do they have your best interest in mind? Insurance companies do not make any money paying claims, the claims division is most likely their largest expense and therefore the easiest place for them to increase their bottom line.
Our job at Property Damage Consultants South Florida is to help people like you. Our passion and expertise are to put an accurate dollar value on your loss and relentlessly fight to recover it from your insurance company. We don't work for the insurance company, we work directly for you with ONLY your interests in mind…let us fight for you!
We are State licensed Public Insurance Adjusters. Craig Drillich the owner of Property Damage Consultants South Florida After working on behalf of the insurance companies for twelve years and tired of seeing the injustice being done to the property owners, Craig Drillich, President of FAPIA the Board of Directors of the Florida Association of Public Insurance Adjusters, became a consumer advocate as an all lines licensed Public Adjuster and Appraiser., being trained by the Big Insurance Companies he knows how they work, think and act. That's right, he used to be an adjuster for the other side. His experience working on both sides has helped many property owners achieve the claim settlement that they deserved.
Property Damage Consultants are ready to answer your call and come to assess the loss you have suffered. We will be there for you and help you file a Lightning Damage Claim in order to get the damage to your property repaired.